Mochila
From the Portal Wiki
"Eu não posso acreditar no quão pequena você é!"
Este artigo é um esboço. Logo, não está completo. Você pode ajudar a Portal Wiki ao expandí-la.


"

Oh well. We have warehouses FULL of the things. Absolutely worthless. I'm happy to get rid of them.

 Clique para escutar

— GLaDOS descrevendo Cubos Companheiros Pesados

"
A mochila é o inventário pessoal do jogador para itens do jogo. Introduzido em Portal 2, a mochila guarda todos os itens que o jogador obteve em slots individuais, e permite com que eles sejam vistos, movidos ou deletados. Itens são mostrados em páginas de 50 slots, para um máximo de 300 itens. A mochila permite ao jogador personalizar os robôs Atlas e P-body para a jogabilidade cooperativa com vários itens, incluindo itens diversos, chapéus, skins e gestos.
Carregamento
A tela de carregamento mostra previas dos itens diversos, Chapéus, Skins e Gestos para P-body e Atlas, e permite ao jogador selecionar novos itens para ligar a seus robos.
Galeria
Interface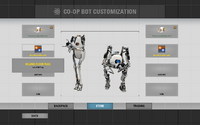 A tela de equipamento.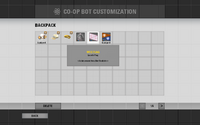 A interface de mochila.  
Veja também