Bionic Beanie
From the Portal Wiki
Bionic Beanie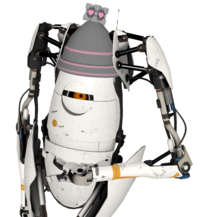 Basic Information
Worn by:
Atlas, P-body
Slot:
Head
Price:

$

2.49 /

£

1.99 / 2.49

€

/ 74

 rub
Item
"I can't get over how small you are!"
This article is a stub. As such, it is not complete. You can help Portal wiki by expanding it.


The Bionic Beanie is a headwear item for the Atlas and P-body. It appears as a grey beanie with a minature Companion Cube on top of it.
This hat is awarded for completing the single player campaign in Portal 2.
Related achievements
Lunacy
That just happened