Portal: The First Slice
From the Portal Wiki
"Eu não posso acreditar no quão pequena você é!"
Este artigo é um esboço. Logo, não está completo. Você pode ajudar a Portal Wiki ao expandí-la.


Portal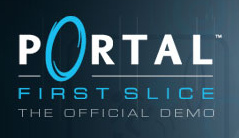 ---
Informações básicas
Desenvolvedor:
Editora:
Distribuidora:
Motor:
Data de lançamento:
Modos:

Um jogador

Gênero:

Quebra-cabeça de primeira pessoa/plataforma

Classificação:
Requisitos de sistema:

Windows

Windows 8, Windows 7, Windows Vista, Windows XP, Windows 2000
Processador de 1.7 GHz
512MB de RAM
Placa de Vídeo com DirectX® 8.1
Conexão com a Internet
Portal: The First Slice é a versão de demonstração de Portal. A demo é composta pelas primeiras onze câmaras de teste do jogo completo.
Disponibilidade
A demo foi lançada inicialmente como parte de uma promoção da Valve para o hardware da Nvidia[1] e ATI [2]em 8 de maio de 2008. Se um usuário comprasse Portal depois de baixar a demo, isso substituiria o The First Slice em sua biblioteca. Ao longo do tempo, a demo foi disponibilizada para todos os usuários do Steam, independentemente do seu hardware. A demo ficou temporariamente indisponível durante a promoção Portal é Gratuito, antes de ser disponibilizada novamente algum tempo depois. A demo ainda está disponível para download no Steam.
Galeria

Promoção do Steam.  

Promoção ATI do Steam.  
Referências
↑ http://web.archive.org/web/20110804182429/http://www.steampowered.com/nvidia/# Promoção Nvidia do Steam, arquivada
↑ http://web.archive.org/web/20100805110553/http://www.steampowered.com/ati_offer1a/ Promoção ATI do Steam, arquivada