"I can't get over how small you are!"
This article is a stub. As such, it is not complete. You can help Portal wiki by expanding it.


"Nope, still can't see!"


This page would benefit from the addition of one or more images.




Please add a suitable image, then remove this notice.



Tag: The Power of Paint is a freeware first-person puzzle game developed by Tag Team, a group of students from the DigiPen Institute of Technology. The game features a paint-gun which allows the player to alter the properties of surfaces around them, similar to how the Gels work in Portal 2. The project team has since been hired into Valve corporation to work on Portal 2.
Tag: The Power of Paint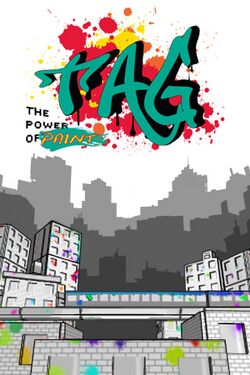 ---
Basic Information
Developer:

Engine:

Brett English
Tejeev Kohli
Pongthep "Bank" Charnchaichujit
Ted Rivera

Art:

Josh Jones
Tyler Woods
Tatsuang "Tan" Tantakosol

Soundtrack

Engine:

Custom

Released:

Microsoft Windows

International: 2008
Steam: April 18, 2022

Modes:

Singleplayer

Genre:

First-person puzzle/platformer
The bounce and speed gels were added into Portal 2 with modified colors. The other gel, "stick", or Adhesion, was removed because Valve found that it gave playtesters motion sickness. It was replaced with Conversion Gel.
Files for a paint gun similar to the one in TAG: The Power of Paint was found.[citation needed]
Gallery
The Paint Gun as seen before picked up.