"I can't get over how small you are!"
This article is a stub. As such, it is not complete. You can help Portal wiki by expanding it.


Portal with RTX is an enhanced version of Portal developed by Nvidia Lightspeed Studios and published by Nvidia, featuring physically based 4K textures, updated high-poly models, and ray-traced lighting. Portal with RTX is available free of charge to owners of Portal.
Portal with RTX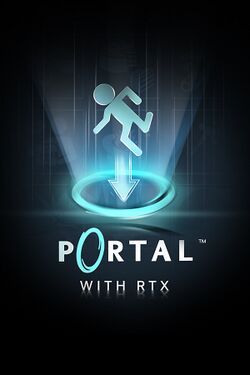 ---
Basic Information
Developer:

Lightspeed Studios™

Publisher:

NVIDIA

Distributor:

Valve, NVIDIA

Engine:
Released:

December 8, 2022

Modes:

Singleplayer

Genre:

First-person puzzle/platformer

Requirements:

Windows

OS: Windows® 10 (64-bit)
Graphics: DirectX® 12 level or Vulkan Graphics Card (Requires support for DXR, Vulkan Ray Tracing)
External links