Portal: The Flash Version MapPack
Jump to navigation
Jump to search
"Nope, still can't see!"
This page would benefit from the addition of one or more images.
Please add a suitable image, then remove this notice.The specific instructions are: " Could do with some pictures of the chambers"

"I can't get over how small you are!"
This article is a stub. As such, it is not complete. You can help Portal wiki by expanding it.


Portal: The Flash Version MapPack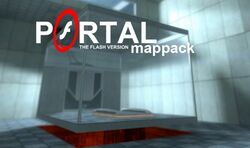 ---
Basic Information
Developer:
Engine:
Released:

Microsoft Windows

International: May 4th, 2008

Modes:

Singleplayer

Genre:

First-person puzzle/platformer

Ratings:

N/A

Requirements:

Processor: Intel Pentium 4 3000 MHz
Display Card: DirectX 9 compatible graphics card
Memory: 1024 MB
Free Disk Space: 1.5 GB
Operating System: Microsoft Windows 2000/XP/Vista
Portal: The Flash Version MapPack is a set of downloadable maps, inspired by Portal: Flash Version. These maps are compatible with Portal, and have been incorporated in the official Xbox Live Arcade version of Portal, Portal: Still Alive, as well as the Nintendo Switch version of Portal included in the Portal: Companion Collection bundle, under the Bonus maps section. The trailer for Portal: The Flash Version MapPack can be found here.
It involves the story of an un-named protagonist who wakes up in a Relaxation Vault. The player must make it through several test chambers, occasionally going off track to discover more parts of the facility, mostly trough vents.
The player soon gets extremely off-track, getting GlaDOS angry. Eventually she decides to utilize a robot capable of firing bullets and projectiles to chase the player. The player must dodge bullets while attempting to escape, soon reaching an open area resembling a parking lot. Then they must redirect High Energy Pellets to the mech, destroying it. GlaDOS gives up on the pursuit of killing the protagonist, letting them free to the outside world. This freedom is short-lived once the player exits, getting shot down by a Combine Gunship.
Trailer
Gallery