Cave Johnson
Jump to navigation
Jump to search
"Estás usando este software de traducción de forma incorrecta. Por favor, consulta el manual. - Wheatley"
Denne side er ved at blive oversat til Danish.
Hvis du kan snakke Danish, skriv på talk siden eller snak med dem, der har speak to those who have bidraget til denne side (ved at se side historikken).

"I can't get over how small you are!"
Denne artikel er kun påbegyndt. Den er derfor ikke færdigskrevet. Du kan hjælpe Portal Wikien ved at udvide den.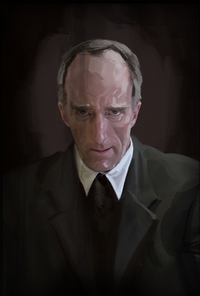 "

I'm Cave Johnson. I own the place.

— Cave Johnson

"
Cave Johnson er grundlæggeren bag Aperture Science, som blev bygget op fra Aperture Science Innovations. Han var kort nævnt i Portal, men har en mere makes a more fremstående rolle i Portal 2, i form af lydoptagelser som han har efterladt. Hans nuværende status og opholdssted er ukendt, formodes død.
Cave Johnson får stemme fra den amerikanske skuespiller J. K. Simmons.